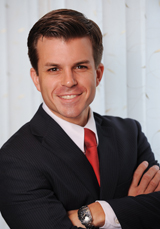 Of Counsel-
Former Dade prosecutor, handled thousands of cases, also worked in the legislature drafting many of our criminal laws.
ADMITTED: State Bar of Florida, United States District Court for the Southern District of Florida.
LANGUAGES:  Fluent in English & Spanish.
EDUCATION:  Marshall University Lewis College of Business, Syracuse University College of Law, Juris Doctor.
AREAS OF PRACTICE: Criminal Defense, Bankruptcy.
Matthew E. Ladd is experienced representing those charged with all criminal offenses from simple misdemeanors to complex felony prosecutions.
He is a former prosecutor with the Miami-Dade State Attorney's Office. There, he prosecuted thousands of cases ranging from misdemeanors to felonies including violent crimes, child abuse, theft, and murder.
After fulfilling his commitment to State Attorney Katherine Fernandez Rundle he served House Speaker Marco Rubio in the Florida House of Representatives. In the Legislature.
Mr. Ladd assisted in the creation of legislation related to criminal justice, residential foreclosures, public safety, auto insurance, immigration reform, property taxes, homeowner and condominium association reform, and compensation for the wrongfully incarcerated. He also served as a Special Master presiding over Claim Bill hearings.
Mr. Ladd is affiliated with the Kiwanis of Little Havana and contributes to the Police Benevolent Association. He is recognized in the community as an aggressive advocate who maintains a strict focus on his client's satisfaction.  He is a graduate of Syracuse University College of Law and The Marshall University Lewis College of Business.